PHOTOGRAPHING HORSETAIL FALL
Feb 03, 2021
The magic of Horsetail Fall in Yosemite National Park potentially happens every February -- if all of conditions are right. If you are reading this post, it's likely that you already have some idea of the magic that Horsetail Fall can be. Photographing Horsetail Fall is a "Bucket List" thing for many photographers, it certainly was for me. If you have not seen it, I highly encourage making plans to see it. This is my first post to my brand new Blog. I will be discussing my experiences, trials and tribulations of photographing Horsetail Fall. I hope that you enjoy this post and I hope that it gives you some tips to capture your own images of the famed Horsetail Fall.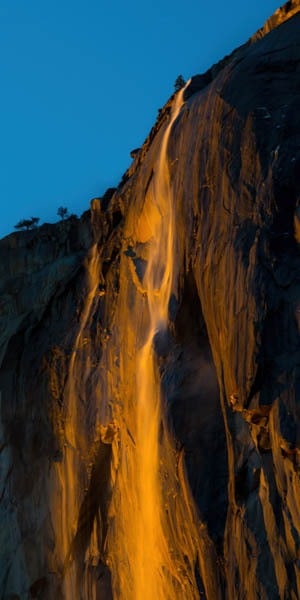 HORSETAIL FALL IS A FLEETING EVENT
There are four things necessary to successfully photograph Horsetail Fall. First, it only occurs at a certain time of the year. Second, it needs to snow and then be warm enough to melt the snow so that there is water flowing over the waterfall. Third, the sun needs to shine directly on the waterfall. A bright sunny evening in the middle of winter is definitely an iffy proposition. Lastly, you need to be there and be able to get to a spot with a few hundred others to "get the shot". Unfortunately, the only thing that is a "given" is that we know when it can potentially happen. After that, many other factors come into play.
Time of the Year: Fortunately we know when the angle of the sun is perfect to illuminate Horsetail Fall. The sun lines up very predictably in February and October. Plan on going to Horsetail Fall in February as Horsetail Fall is almost always dry in October. Horsetail Fall is at its best around February 15th to 22nd. Great images can be taken slightly before or after these dates.
Water in the Waterfall: For me this has been a big variable. The amount of snow in Yosemite has definitely decreased in recent years. Call it global warming or something else, but the fact is there is often less water flowing over Horsetail Fall. Water flowing over the waterfall is a key ingredient to a great picture. The watershed for Horsetail Fall is very small. A large snow pack and warmer daytime temperatures are necessary to get water flowing over the falls.

You Need to be There: It goes without saying that you need to be there to have the chance to get a good image. The popularity of seeing Horsetail Fall has significantly increased the last few years. The first two years that I was in Yosemite to shoot Horsetail Fall it was fairly straightforward. Starting in 2018, the National Park Service started to manage access to the prime viewing areas for Horsetail Fall. They tried several different methods to control access, which have worked with varying degrees of success. This year, because of the worldwide pandemic, Yosemite National Park is limiting the number of visitors allowed into the Park. If you can get into the park, Horsetail Fall is definitely worth seeing. Just be prepared for it not to happen if all of the conditions are not right. I captured the above image on on my third attempt to shoot this beautiful waterfall.
I WAS THERE AND THERE HORSETAIL FALL WAS DRY
More than once I have planned my visit to Yosemite to shoot Horsetail Fall, only to discover that there is little to no water flowing in the waterfall. Horsetail Fall is a seasonal and very fleeting waterfall and for most of the year most park visitors have no idea that there is a waterfall that occasionally flows off of El Capitan. Of course there is an initial disappointment when one arrives at the park and sees that the waterfall is dry. But then all you have to do is realize that you are in Yosemite National Park, one of the crown jewels of the National Park System. It doesn't talk long to find something else of sheer beauty.
One interesting phenomenon of Horsetail Fall is how the setting sun completely focuses on the waterfall and it illuminates the mist in the waterfall to almost create the effect of flowing lava. One year I decided to shoot Horsetail Fall when it was dry. The three images above were all taken when there was no water flowing over the waterfall. The image on the left shows just how the sunlight focuses on the waterfall on these few magical days in February. The center image, also with no water in the waterfall, is a closeup image that also shows just how much the sun focuses on the waterfall area. As I was writing this blog post, I decided to try a "waterless" image of Horsetail Fall in black and white. I was actually very pleased with the results you see above as it reminded my of Ansel Adams.
Enjoying this helpful information on photographing Horsetail Falls in Yosemite National Park?
If so, please subscribe to my Newsletter
BEST PLACE TO PHOTOGRAPHY HORSETAIL FALL?
The most popular place to see Horsetail Fall in from the El Capitan Picnic Area. You used to be able to drive there or park fairly close to there and find a good spot, but those days are over. There will always be a lot of people at the El Capitan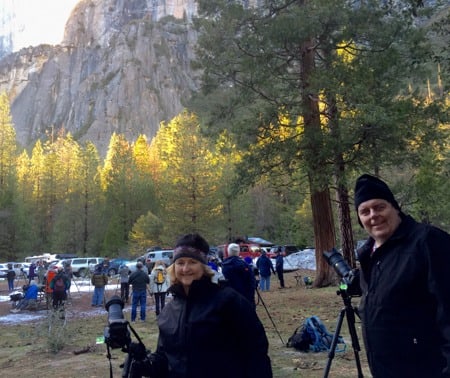 Picnic Area. The good news is that that nearly everyone is using a telephoto lens and you will be able fo find a good vantage point without others being in your way, no matter how many people are there. If you are a people person, this is a fun place to be as you will make several new friends and hear some interesting stories. The image on the right is of my wife and I and was taken in 2016. It's a lot more crowded now. I also took the image featured at the top of this post in 2016 from the El Capitan Picnic Area.
To view the spectacle at the El Capitan Picnic Area, visitors will have to park at the Yosemite Fall parking lot and walk one and a half miles (each way) to the viewing area near El Capitan Picnic Area. One lane of Northside Drive will be closed to vehicles, allowing pedestrians to walk on the road between the viewing and parking areas.

The other good vantage point is across the valley off of the Southside Drive. Unfortunately, since 2020, this area of the park has been closed for viewing Horsetail Fall. Too many people crowed onto the fragile elevated riverbank and it collapsed into the Merced river. Many people who arrived late waded into the river to get a better vantage point, plus people left trash everywhere. As a landscape and nature photographer, I am trying to capture the beauty of the world around us and I always want to leave the area as good or better than when I arrived. All I ask is that the readers of this blog post do the same and leave no trace so that future generations can enjoy this wonderful phenomenon.
Source: National Park Service, Yosemite National Park.
2021 Viewing Restrictions: Southside Drive will be open to vehicle traffic, but parking, stopping, and unloading passengers will be prohibited between El Capitan Crossover to Swinging Bridge Picnic Area. Pedestrians will also be prohibited from traveling on or adjacent to the road in this area. From Cathedral Beach Picnic Area to Sentinel Beach Picnic Area, the area between the road and the Merced River (including the river) will also be closed to all entry.
Day Use Permits Required: To better manage heavy visitation in Yosemite National Park while California continues to experience the COVID-19 pandemic, day-use reservations or confirmed lodging reservations will be temporarily required to enter Yosemite every day beginning Monday, February 8, 2021. Day-use reservations will be required until local public health conditions improve.
WHAT KIND OF CAMERA AND OTHER EQUIPMENT DO I NEED?
Here is what I bring for my shoots at Horsetail Fall
DLSR or Mirrorless Camera
Telephoto Lens
Tripod (A must for clear focused images)
Camera remote or cable release
A Neutral Density Filter for extra long exposures (optional)
.Comfortable folding chair (you will be in it for awhile)
Rubber standing pad will keep your feet warm if standing on snow
A blanket is nice for your legs (again, you will there for awhile)
Wine, warm drinks and snacks. Bring your A game with a Charcuterie Board!!
Please don't feed the bears and definitely don't let them taste your wine!!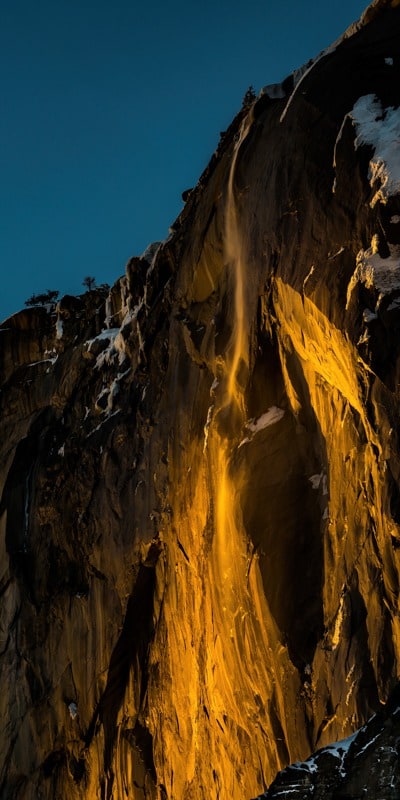 This image of Horsetail Fall was taken in 2019 and shows how cloud cover can effect the illumination of the falls. One interesting feature of this image is both the waterfall and the ice on the rock next to the waterfall are illuminated. You can see the top of the waterfall is not very well illuminated. Unfortunately, a cloud passed between the sun and the waterfall at the most inopportune time. The waterfall was completely clear for most of the hour leading up to the magic time. This is life when trying to photograph Horsetail Fall. I have made the trek five times. If you get a good shot on your first trip, consider yourself very lucky, If you don't, just chalk it up to mother nature not cooperating and try again!
Photo Tip: You will want to expose your image for the light on the waterfall. If your camera has an exposure bracketing feature, USE IT!! If you don't know how to use it, learn how to use it in your backyard or somewhere else before you visit Horsetail Fall. The typical camera light meter will tend to overexpose images of Horsetail Fall. Don't rely in the camera's automatic light meter to choose your exposure for you, Instead learn how to use your camera's bracket feature so that you can quickly get several different exposures in the field. This event only last about 8-10 minutes, which means that you won't have much time to fuss with camera settings and exposure issues. Plus it's a lot more fun to enjoy the show than fuss with your camera settings.

I hope you enjoyed this helpful information on photographing Horsetail Falls in Yosemite National Park. Please subscribe to my Newsletter.
If you read this far I have a surprise for you. The ideal time to see Horsetail Fall is from February 15th to 22nd. As such, I will give you 20% OFF all purchases from my Fine Art Collection, now through February 22nd. Just Click the Subscribe Now button above and I will email you a special 20% OFF, CODE to use at checkout. Hurry, this sale is on now through February 22nd.
You can also shop my Studio Sale where I have select works on sale for 50% OFF or more. I still have more Studio Samples to add to the sale so just ask me if your looking for a specific image.
Shop Images In This Post: You can clock on any image and you will be taken directly to its location in my Virtual Gallery.