HISTORY OF HORSETAIL FALL
HORSETAIL FALL IS FLEETING
The magic of Horsetail Fall in February is by no means a given. I have tried to photograph Horsetail Fall for five years. I got a great shot in 2016 and a good and uniquely different shot in 2019. In this post, I will focus on the history of Horsetail Fall. In my previous post, I discussed my experience shooting Horsetail Fall and some of the latest information for shooting it in 2021. I am hoping to be there again next week, weather permitting.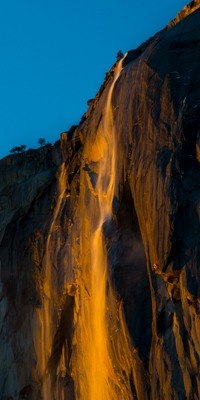 HORSETAIL FALL HISTORY
"Horsetail is so uniquely situated that I don't know of any other waterfall on earth that gets that kind of light," said Michael Frye, who authored, "The Photographer's Guide to Yosemite," If you have never seen or heard of Michael's book its absolutely excellent and I highly recommend that you check it out.

I am an avid fan of Ansel Adams and his photography in Yosemite National Park. Ansel Adams knew of the seasonal waterfall that he called El Capitan Fall. There is a black and white Ansel Adams image from the 1950's from a similar vantage point that is popular to shoot Horsetail Fall today. The magic of Horsetail Fall that we know today was first discovered
in 1973 by Galen Rowell. Basically, if all the conditions are right, the sun will shine directly on the waterfall, creating the effect of molten lava flowing over the waterfall This effect is created by the narrow focus that the sun has on the waterfall and the light reflecting off the granite walls of El Capitan to illuminate the mist in the waterfall for this amazing spectacle!! Since Horsetail Fall was discovered, an increasing number of photographers and park visitors are flocking to Yosemite to see and photograph this famous waterfall. As a result, the National Park Service has had to limit access to the best locations to minimize the impact on the park. You can read more about photographing Horsetail in my first blog post here.
MANY THINK HORSETAIL FALL IS THE FAMOUS YOSEMITE FIREFALL
When Horsetail Fall lights up in February, many people immediately think that this is the famous Yosemite Fire Fall. That is not the case. Horsetail Fall is a natural phenomenon where natural light shines on the waterfall to create this unique flowing "fire" effect. In contrast, the famous Yosemite Fire Fall was man-made. The tradition of the Yosemite Fire Fall began in the late 19th century. There was a hotel at Glacier Point and the owners sons collected money from Yosemite tourists to fund the nightly "Fire fall". James McCauley, the owner of the Glacier Point Hotel would build an evening fire for hotel guests on the edge of Glacier Point. When it came time to put the fire out, he would push the fire off the edge and let it tumble a couple thousand feet below, hence the name "Fire Fall".
The "Fire Fall" eventually died out and it was revived again in the early 1900's. It continued, except for a brief hiatus during WWII, until 1968. In 1969 the National Park Service halted the event because it was not a "natural" event and it was straining park resources and creating traffic.
HORSETAIL FALL IS A NATURAL FIREFALL
In keeping with the norms of today, pushing a campfire over a cliff would never be acceptable. Thankfully we have the magic of Horsetail Fall being illuminated by natural light to meet our environmentally friendly desires for a 'Fire Fall". If you ever get a chance to see Horsetail Fall in these few magical days in February, it's a sight I highly recommend that you see.
I hope that you are enjoying this history of Horsetail Falls in Yosemite National Park?

If so, please subscribe to my Newsletter